This will be the last weekly strategy note for 2020 and we wanted to take this opportunity to thank all of our clients for continuing to trust our business to help them with their financial affairs.
 
I think it is perhaps an understatement to say that 2020 has been a turbulent year and for many a year they are looking forward to putting behind them. At the same time it will be interesting to look back to see what structural changes as a society in general continue, e.g. working from home and the need for office space, international travel patterns, home schooling, stock piling of toilet paper etc. Many industries had to pivot and think about things differently in order to simply survive and for some the change has helped them actually prosper.   
 
For Investment markets:
After reaching an all-time high on the 20th of February 2020 Global Share markets experienced a significant correction, in the magnitude of -40% in March, due to the impact of the Global Pandemic. As per the chart below many share markets are now close to a full recovery from their trough, with the US and Japan share markets now higher than they were prior to the previous peak.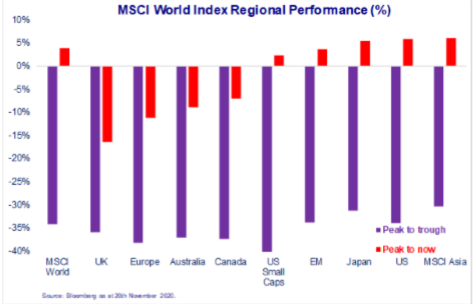 Regardless of weak economic and company data the share market continues to rebound strongly. In case you missed it you can read last week's strategy note, which can be found on our website under Client Resources, regarding our thoughts on current valuations, i.e. is the market cheap or expensive?
The Australian official cash rate was cut 3 times from 0.75% to 0.10% - it is the lowest rate in history and will have an impact on portfolio returns for the next decade.
Australia / China trade tensions escalate in 2020 with concerns around the economic impact of tariffs and sanctions by our largest export market. The AUD appreciated against many major currencies and is now trading at circa 72c US.
August Reporting season and the US election were largely non-events from a share market perspective. The focus has shifted to how quickly and effectively a vaccine be rolled out in 2021 and flow on to company earnings recovering.
With 1 month to go we are expecting low single digit returns for 2020, in the vicinity of 2% – 5%. This is quite different to the circa 12% – 15% delivered in 2019, which was the best performing year in the last 5 years.
 
 
For the Personal Insurances industry:
 
Removal of "Agreed" value Income Protection contracts for new policy entrants. This was a regulated update due to the continued loses sustained by insurers offering income protection policies. Importantly, existing "Agreed" value terms continue for existing policy holders.
An increased focus by the ATO in terms of the tax deductibility of certain benefits included in the Income Protection policies has seen insurance providers be more prescriptive on the deductibility of premiums and reduce the percentage of premiums stated as deductible.
Impact of last minute opt in legislation was announced for inactive and small account balances requiring clients to opt in to maintain existing cover or have their insurance cancelled automatically by the superannuation trustee.    
Due to continued rising claims and consistent low yields on capital secure investments there was increasing pressure on profitability of disability insurance. This saw a focus on premium sustainability and led to significant price increases by all industry participants. Having an active approach, especially at annual renewal, to manage risk and cost has never been so important.
 
 
For the Financial Services Industry:
 
Approximately 4000 Financial Advisers (circa 15%) left the industry in 2020 with many more are expected to leave by 2024 as they fail to meet the required minimum education requirements. Only around 200 advisers commenced their professional year.
Around 3 million Australians accessed circa $45 billion in superannuation savings in an unprecedented move by the Government to assist with the financial impact of Co-vid 19. It will be interesting to see what the effect on retirement savings is longer term.
Compensation payments by major financial institutions to clients who paid advice fees without receiving service escalated in 2020 and should be finalised in 2021. This is off the back of the Royal Commission findings.
On a personal note the team at Coastline Private Wealth wish you and your families a festive end of year and Happy New Year heading into 2021!
 
Please note we will also be taking some time off to spend with our families and the office will be closed from Monday the 21st of December and returning on Monday the 10th of January.
 
If your matter is urgent, please call the office number as the phone line will be diverted and we will be checking emails on a regular basis.
Please do not hesitate to contact us if you have any questions.

Kind regards,

The Coastline Private Wealth Team.