Last week marked 12 months since the World Health Organisation declared COVID-19 a Global Pandemic.
 
Worldwide 119,109,202 cases and 2,641,683 recorded deaths.

Australian has experienced 29,090 cases and 909 deaths

Active cases 21,745,084 / Recovered 94,722,435.
 
 The future of work – a new way of working 
2020 will be the year that changed the way many people work. COVID-19 introduced both societal and organisational shifts, with businesses and their employees forced to adapt quickly to new ways of working that included work being carried out remotely and with increased flexibility.
 
The idea of more flexibility and the ability to work from home has long seemed a dream for many. For others, working from home was often mocked – typically a day where you get up late, log on for a few hours, do some exercise and go for a coffee, make a few strategically timed phone calls and then call it a day.
 
But during the pandemic businesses were forced to allow employees to work from home or risk closing down. For some it's created an understanding and level of trust between employees and their businesses that they can work from home effectively and others it proved to be a nightmare getting technology up and running and learning new ways to communicate with customers and motivate team members.

For employees, removing a stressful commute and the need for smart business clothes and adding the ability to get the washing on while the kettle boils has proved a success. In turn, businesses now see further potential to reduce overheads. If working remotely becomes the new way of working, office spaces will be smaller, reducing the cost of rent, cleaning and heating/cooling, even if there is a need to invest in IT systems and cyber security.

One thing is for sure and that is there won't be a one size fits all approach. Each business will need to consider what returning to work looks like for them, with health and safety the primary concern.
 
So, what might our workplace of the future look like, and what might it mean for our environment, social skills and work productivity?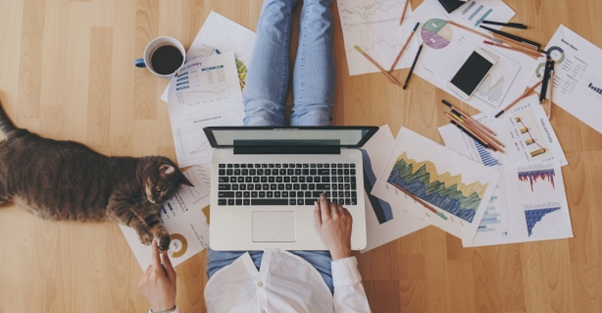 Health and safety – social distancing, avoiding commuting on public transport, stringent cleaning practices for desks, meeting rooms, bathrooms, end-of-trip facilities and shared kitchens. Number if people at a physical meeting and the size of the room becomes important. Wearing of masks indoors.  


 

Workspaces and facilities – home office self-assessments, relocating workspaces, collaboration spaces and meeting rooms, facilitating movement around buildings, staggered start/finish and break times. Recent events have indicated humans and technology are intrinsically linked. How successful businesses are at doing this will define the future of work. What about productivity and efficiency – what if the internet at home is not working or there is an IT issue – how quickly can these issues be resolved?


 

Effective communication – clear messaging and empathy from leadership. It's now more than just treating employees fairly, it's about creating clear connections across individual jobs, team objectives and the business' overall mission. The usage of Zoom and Microsoft teams has increased massively. How we connect has changed forever with video conferencing now being so widely accepted.   


 

Risk management – contact tracing, QR codes, travel policies and having a pandemic contingency plan in place. What are employers responsible for. What if there is a workplace accident at your home? Development of more human resources policies will be required.


 

Mental health and wellbeing – mitigating stress and anxiety for those who may not be comfortable returning to work. Although working from home saves hours in commuting time and allows people to put the washing on while making lunch, it seems they haven't been able to use this extra time to create a better work-life balance during the pandemic. In fact, the reverse is true. The working day has become longer as people juggle work pressures alongside increased personal demands, such as home schooling or caregiving. The separation between the two has become blurred.

A happy medium
As many people around the world return to work, some workplaces will advance quickly, transforming themselves into workplaces of the future, where people and technology co-exist effortlessly. Others may take longer to establish new ways of working. But either way, the future of work is certain to be different from what we've known before.
 
All changes must be sustainable to enable a meaningful, long-term recovery. And while health and safety dominate initial return to work plans, productivity must also be a key consideration. We'll likely transition to a world where employees will be able to choose how they manage their time between working within the office and remotely.
 
Businesses will need to choose between an enhanced version of yesterday or building one that is a sustainable version of tomorrow. The risk is more than that of falling behind—it's the possibility of never catching up at all.
Please do not hesitate to contact us if you have any questions.
Kind regards,

The Coastline Private Wealth Team.