Performance for the financial year ending 30 June 2021
 
Annual tax and performance statements will be sent out in the next 2-3 months.

So, what sort of returns can you expect from last financial year - see table below for the various risk profiles.

In summary, the performance for last financial year was very strong, illustrating a V-shaped recovery in markets since the market crash due to Covid 19 in February / March 2020. What is also reassuring is the longer term performance figures. 
 
Morningstar Multi sector Index Trailing Performance (30 June 2021)

Outlook for the rest of 2021.
1) The pandemic is still far from over as new virus variants surface where vaccination rates lag and as the human toll continues to mount, especially in less developed economies. Yet macroeconomic indicators signal that the global economy is rebounding faster than many had expected from its sharpest contraction in modern history. That rebound is reflected in our current full-year GDP growth forecasts, which remain roughly in line with our optimistic projections at the start of 2021. The economic recovery is expected to continue through the second half of 2021, underpinned by rising vaccination rates and the rebound in consumption as restrictions are lifted.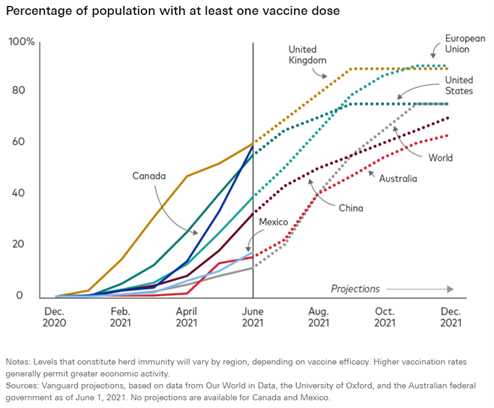 2) Various factors are fanning concerns about higher inflation, including the stronger-than-expected rebound in global growth, extraordinary and unprecedented monetary and fiscal stimulus, and a jump in demand for goods and services as economies reopen and supply gradually comes back online. Although we expect the effects to be largely transitory, our outlook is for a modest but eventually persistent increase in inflation. Central banks are holding firm with current policy settings, although a recent survey of Federal Open Market Committee members suggests the first post-pandemic rate hike could come in 2023, rather than 2024.
 
3) Australia's gross domestic product (GDP) has now returned to its pre-pandemic level and the labour market has retained its momentum, even with the end of the JobKeeper Payment scheme.
Please contact us if you have any questions.

Kind regards,

The Coastline Private Wealth Team.
Copyright © 2021 Coastline Private Wealth, All rights reserved.
Our mailing address is:
PO Box 2082
Churchlands WA 6018