What do you have planned for 2022?
 
2022 has given us the gift of another 365 blank pages. Will this year be the year to tick off one, or more of your 'bucket list' items; a fresh start or new venture; or simply finding the time to do more of the things you already enjoy doing. 
 
What may seem like a long way away now, often sneaks up on us – its nearly the end of January - so it is important to start the planning process early. After all nothing that you really want is easy, so planning and focus is essential if you want to achieve your goals.
 
The key to realising your goals in 2022 is to make them specific, write them down, tell as many people as you can and store them in a place that can be visible every day, like the fridge for example. 
 
Some common financial goals are saving for a holiday, moving to your dream home, changing jobs, working out whether you are on track to reach financial independence, reviewing your wealth protection plan, starting an education fund, consolidating your super funds, or sorting out your Wills.  
 
Portfolio Performance for 2021 
2021 was a strong year for Global share markets. With low interest rates continuing, the share market had to do much of the heavy lifting in terms of providing a return on your investments, led by the US tech stocks.

The 2 final seats of Georgia in the US election were decided in January and the announcement of the "American Rescue Plan" – USD$5.6 trillion of Government stimulus – quickly followed.

We witnessed a "V shaped" recovery – our sense is that the recovery will be in the top 3 fastest recoveries in history, when the "Bull" market ceases

We started adding risk, i.e., allocation to growth assets, at the beginning of 2021. Most portfolios now have an overweight position to growth assets.

We completed most of the investment stages program formulated in February 2020.

Volatility persisted with concerns around inflation and the withdrawal of Government and Central Bank stimulus. 

Here is our view on some key economic indicators. 
Share market returns – most analysts believe that equity markets will outperform cash for 2022. That is largely because cash rates are so low however they key is what downside risk is priced in? We think it is unlikely global share markets will increase by 15 - 20% again in 2022 so overall returns are expected to be positive, however lower than 2021. 
Interest rates – while the Australian official cash rate is very likely to remain the same for 2022, interest rates may rise independently of the RBA. The US will likely have 2 – 3 interest rates rise this year to try and control inflation. This should be seen as a positive as economic growth has been very strong and they are at historical low rates. Low rates will still be a drag on overall portfolio performance and interest rate sensitivity risk (duration) will also be a concern. 
Economic Growth – the IMF are predicting a slow down in global GDP growth in 2022. A lot will depend on the easing of social restrictions and lock downs for this growth number to be achieved.
Currency (AUD) – At 73c to the USD the AUD appears "fair value". With the US interest rates set to rise the AUD may fall a little further from here.
Employment – while many are getting used to working from home the big impact right now is self-isolation and the effect on supply chain including food, retail, call centers etc. The one key focus is trying to limit the number of people contracting Co-vid at the same time.
 
Latest Key Economic Indicators from the Reserve Bank of Australia – 14 January 2021.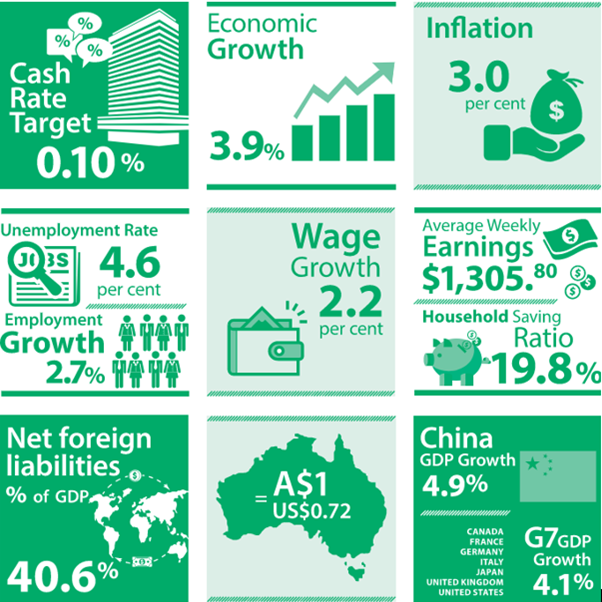 Please do not hesitate to contact us if you have any questions.
Kind regards,

The Coastline Private Wealth Team.
Copyright © 2021 Coastline Private Wealth, All rights reserved.

Our mailing address is:
PO Box 2082
Churchlands WA 6018