Volatility – is cash king again?

When we consider investing, we need to ask ourselves whether we are getting rewarded for the risk we are taking vs keeping the funds in cash, being the risk-free benchmark.
 
Where asset allocation gets challenging is when you overlay share market volatility and rising interest rates into the mix. Traditionally when volatility increases you reduce exposure to growth assets and allocate towards defensive assets. However, with interest rates rising, defensive assets have not been the safe haven they once were, and cash is now becoming king again. Term deposits rates have spiked and will become an increasingly important asset class in a diversified portfolio.   

The following chart shows the VIX index for 2022, year to date, which is a measure designed to produce a constant 30-day expected volatility of the US share market and is one of the most recognised measures of volatility. The VIX attempts to measure the magnitude of price movements of the S&P 500 (i.e., its volatility). The more dramatic the price swings are in the index, the higher the level of volatility, and vice versa.
 
Volatility, or how fast prices change, is often seen as a way to gauge market sentiment, and in particular the degree of fear among market participants. In general, a VIX reading below 20 suggests a perceived low-risk environment, while a reading above 20 is indicative of a period of higher volatility.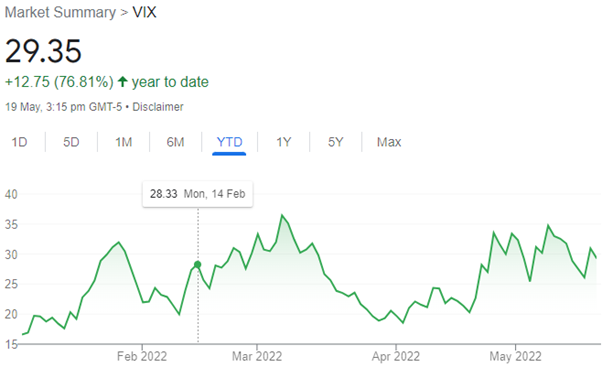 If you overlay the ASX 200 over the same time period you can correlate the fall and rise in markets with the VIX index, i.e., volatility rose when markets declined at the end of January 2022 and fell during the April 2022 market recovery.
 
One thing we do expect is heightened volatility until market can fully price in the pace and magnitude of interest rate rises and the subsequent impact on company earnings. This may take many months to factor in however markets are always trying to anticipate the future.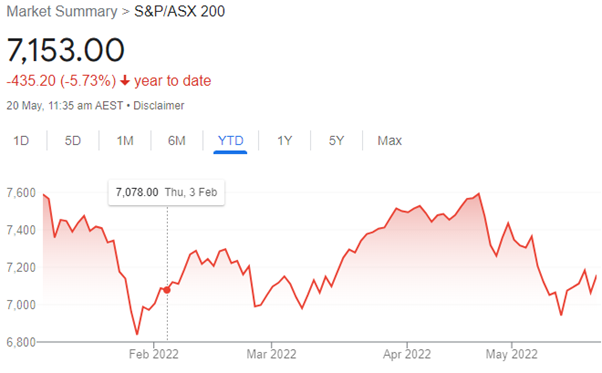 Please do not hesitate to contact us if you have any questions.
Kind regards,

The Coastline Private Wealth Team.
Copyright © 2022 Coastline Private Wealth, All rights reserved.

Our mailing address is:
PO Box 2082
Churchlands WA 6018