Over two weeks has passed since the US Election Day and it seems clear that the market has turned its attention primarily to issues other than politics. While the market seems confident that Vice President Joe Biden will become the next president of the United States the results will not be officially final for a few weeks.
 
Markets expecting Republican control of Senate, but outcome unknown until January
 
The market also seems to be behaving consistent with the belief that the Republican Party will maintain control over the U.S. Senate, and that the Democratic Party will control the House of Representatives. It is important to note that we will not know the final answer to this until the results of the two run-off elections in January for the Senate seats from Georgia are decided.
 
Currently, Republicans have won 50 seats and the market appears to think the Republicans will win 51 or 52 seats. A majority is 51 seats, so it is going to be close. Importantly, this also means that the Democrats would need to win both seats in Georgia in order to wrestle control away from the Republicans. Notably, in either case, that is a razor-thin majority.
 
If the Republicans hold the Senate then any Democrat policy could essentially be blocked. 
 
Market focus shifting to COVID-19 vaccine developments
On 9 November, pharmaceutical giants, Pfizer and BioNTech announced that their vaccine candidate for the coronavirus was found to be more than 90% effective in preventing COVID-19 infections. As we understand it from medical experts, this is a spectacular result that should give the world hope that life could return to normal perhaps as early as the middle of next year. The market clearly had this same positive reaction, and rallied hard last week until Friday when the timing of the vaccine delivery and lack of immediate stimulus sunk in. One thing is for sure is that news flow is making markets very volatile.  
 
Most of Europe in Lock down yet European share markets rally?
 
European markets have been following the US lead however many countries including UK, France, Germany, Italy, Spain, Belgium, Portugal, Denmark, Czech Republic, Ireland, Greece etc are in lock down, curfew or greater social restrictions. This to us just doesn't make sense and demonstrates the disconnect between the broader economy and momentum markets.
 
UK Share market – FTSE 100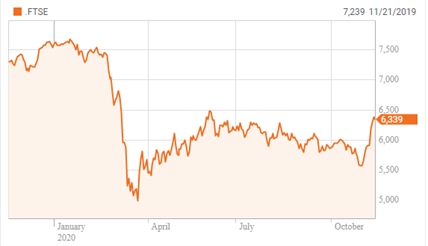 How the Budget Income tax cut could pay off?
How the Budget Income tax cut Around 12 million working Australians will start receiving extra cash in their pay packets as a result of changes to personal income tax brackets announced in the budget this year by the federal government.
 
Most individuals will receive a tax cut of between $1,060 and $2,745 per year after tax, depending on their taxable income. The individual tax savings equate to between about $20 and $53 per week more in after-tax cash income. Working couples, of course, will receive a double benefit in terms of more combined weekly income and two backdated lump sum payments.
 
So, an important question is "do you spend the extra money in your bank account or maintain your current standard of living and invest it?"
 
According to the MoneySmart compounding interest calculator saving $50 per week, assuming a 6% rate of return, will grow to circa $35,507 over 10 years.
Please do not hesitate to contact us if you have any questions.

Kind regards,

The Coastline Private Wealth Team.