Circles of Control
 
With so much turmoil in the world at the moment, it can be interesting to assess how we react, and importantly adapt, to things that happen. Have you ever thought about what you can and cannot control as well as what you can influence?
 
One way to help us cope with constant change is to think about the "circles of control" as illustrated in the chart below. 

The key is how well you focus your time and energy on making the middle circle wider and the outer circle thinner.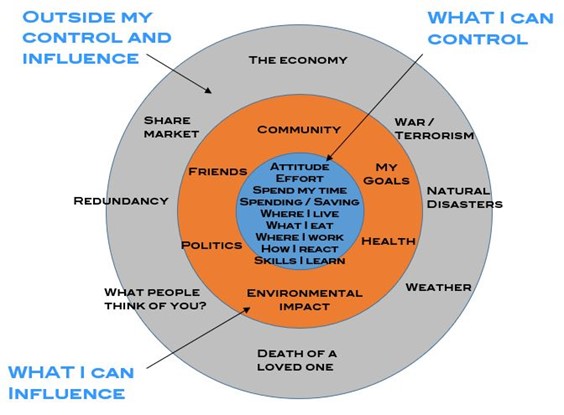 We know there has been a great deal of disappointment in 2020 and 2021 with many overseas and interstate holidays being cancelled, weddings being postponed, the inability to travel to a loved one's funeral etc…it is easy to get despondent at times.

Acknowledging times where we are feeling sad, lonely or disappointed is just as important as taking pleasure and celebrating positive aspects in life. We all know these feelings. They are the things that make us human.
 
Spending the time to understanding what is important to you and what you can and cannot control will help you block out the distractions that take you away from your purpose.

Each and every day you have the opportunity to start again with endless possibilities, while the mistakes of yesterday can be learnt from their impact will fade into obscurity. A simple saying that echoes this sentiment is that "you don't drive a car looking in your rear-view mirror all the time". 
Please do not hesitate to contact us if you have any questions.
Kind regards,

The Coastline Private Wealth Team.